The Nû Centered Wolf Pack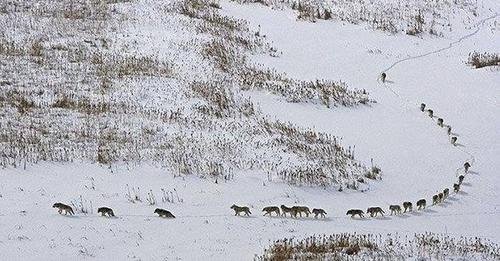 Today's news brought to you by Nû.
"Throw me to the wolves &
I'll return (following) the pack (from behind)."
Adapted-Unknown
Most of us have come across a popular wolf pack meme on social media. Unfortunately, information on wolves, just like the neurodiversity movement, is full of myths and misinformation that continues to perpetuate a lot of stigma and the illusions of the role of "Alphas." At Neuromarts+, we pledge to uphold the Nû wolf pack model equitably and nothing about us without us.
A Nû Centered wolf pack: respects all positions, the first in line is not a permanent role; each individual is encouraged to navigate and self-direct their position in the pack in relation to the support level, abilities, right, responsibilities and self-determination in activities of daily living.
The front of the line is reserved equitably, provides the highest support levels, and paces the entire pack. The first in the line would be left behind if it was the other way round, losing contact with the pack. In the case of leadership and self-advocacy opportunities, they would be sacrificed and not fluid.
Then come Nû Self-Advocates, who have expressed interest in developing their leadership skills to move further back in the line.
In the center are the rest of the pack members.
Then followed by Neurodivergent influencers, leaders, activists, lobbyists and organizations.
Last is not alone, the parents.
Nû parent controls everything from the rear. In that position, they can see everything and parents' goal of moving further away from the independent pack. A Nû parent remains the pack's most trusted and celebrated ally.
The pack moves according to the principles of Nû, advancing international law, nothing about us without us and #Globalgoals."
Meet you on the battlefield,
Nû